Introduction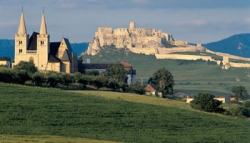 We kindly invite you to participate in the 19th Czech-Polish-Slovak Mathematical Conference which will be held from June 5 (Tuesday evening,) till June 8 (Friday noon), 2012 at Spišské Podhradie. The Conference will take place at the School of Theology of the Catholic University, Spišská Kapitula (see map).

The deadline for registration, along with the submission of Title and Abstract of your talk, is May 15, 2012.

Official conference languages are Slovak, Czech, Polish, and English.
There will be two sections, Mathematics and Didactics of Mathematics and Informatics, respectively. Refereed contributions in English will appear in a monograph published by Verbum Ružomberok. The contributions (up to 8 pages, use the LaTeX template) should be sent at the latest on June 30, 2012 to billich@ku.sk.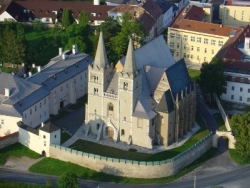 The conference fee is 50 EUR and the full board is 69 EUR. In case of a shorter participation (one or two days) the full board will be reduced accordingly.
Participants from abroad are encouraged to apply for CEEPUS funds (some 140 EUR for a teacher and 80 EUR for a PhD student), the corresponding sum will refunded by the organizers (CU) at the conference provided the applicant has paid the conference expenses.
Conference fee 50 EUR: should be paid by May 15, 2012 via a Ružomberok bank transfer:
Account holderr: Štátna pokladnica, Radlinského 32, 810 05 Bratislava
Account number: 000000-7000224305
Bank Code: 8180
Bank: VUB, a.s., Mlynské Nivy 1, 829 90 Bratislava
Variable symbol: 130120
IBAN: SK 8681800000007000224305
SWIFT Code: SUBASKBX
Massage (Purpose of payment): First name, Second name, CPSMC 2012